For beginner chatters to the most experienced, the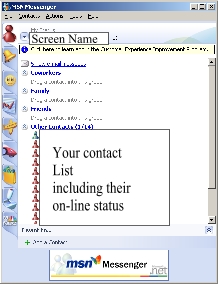 msn Messenger Service is a good choice as your instant messaging service.
It's free, very easy to set up & use, and includes many features. You just need to have a valid e-mail address to use msn Messenger, but having a Passport (Hotmail) account adds even more features.
Instant messages to anyone on your contact list
Control your status (on-line, away, appear off-line) and even block selected contacts
With Passport (HotMail) options, you can view other people's profiles, and even change your own profile from msn Messenger
HotMail notifications
Voice conversations: Call PC to PC, or PC to phone, for free, anywhere in the U.S. or Canada.
Share your files: Trade pictures, music, documents, and more right from MSN Messenger Service. (Please use standard virus protection practices.)
Reach beyond computers: Send messages to pagers and cell phones.
Automatic typing indicator: Stop interrupting! See when people are typing a response.
Customize: Change font styles and colors. Choose your own system sounds, pictures, just about everything!
Emoticons: Express yourself with the emoticons provided, or make your own!
Quick download: It takes under 4 minutes to download on a 28.8K modem.
Voice Chat! I haven't tried it yet.. but i will! :-)